Dr Umar Muhammad
National Chair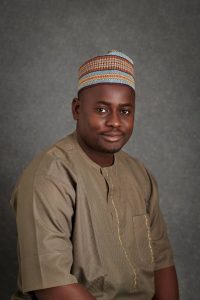 Born in Gusau, Zamfara State, on 25th October, 1986, to the family of Alhaji Muhammad Bajini and Hajiya Aisha, Dr. Umar Muhammad is the current Acting National Chair, Youth Party.
His primary education was also in Gusau, where he attended Birnin Ruwa Special Modern Primary School between 1991 to 1996, obtaining his first school leaving certificate there. He then proceeded to Government Day Secondary School, Birnin Ruwa, Gusau, where he obtained his West African Senior Secondary School Certificate.(WASSC) and the National Examination Council (NECO) certificate in 2003/2004 respectively.

Having completed both his primary and secondary education, he commenced with his tertiary education at Zamfara College of Arts and Science, Gusau, for a one year matriculation program, under the affiliation of Usmanu Danfodio University, Sokoto, in 2004. The following year, he commenced studies in Veterinary medicine at Usmanu Danfodio University in Sokoto State between 2005/2011 .

He served the mandatory NYSC one year program in Gombe State at Akko Local Government Veterinary Clinic as a surgeon and general clinical practitioner in 2012 in the capacity of Officer in charge (I.C). In 2014, Dr Muhammad obtained a Certificate in Computer Science and subsequently added Certification on Digital Marketing to his portfolio in 2019. He currently serves as a Senior Veterinary Officer with the Zamfara State Government, currently with 5 research publications; 3 with International Journals and the other 2 with local journals on tropical diseases and zoonoses.
In the course of his education and practice, he has held various leadership and administrative positions including:
-
National Vice President of Zamfara State Medical and Veterinary Students  Association(ZAMVSS).
Founding member in Zamfara State Young Academics Advancement Association.(ZYAAA).
Zonal Officer, Diseases surveillance unit Kaura.
- Manager at A.S. and Sons farms.
Secretary, Progressive Youth Association, Zamfara state.
Member, Nigerian Veterinary Medical Association.
Member, Youth Alliance for Good Governance (YAGG)
Founding Member & Deputy Organizing Secretary, Youth Party
National Auditor, Youth Party.
- Secretary, Disciplinary Committee, Youth Party.
Secretary, Board of Trustees, Youth Party
Acting National Chair, Youth Party.
He is happily married and blessed with two kids.